Psychology
Apply Online | Request More Information | Major Brochure


The human mind is a marvelous contraption. At birth, a baby cannot hold its head upright or control her bowels and bladder. Three or four years later, this child will speak in complete sentences, play video games, and retell her favorite movie. How can a person learn so much in so little time?
Most people know that psychologists study and treat mental illness but there is much more to the field than that. Psychologists study almost every aspect of the human experience from prenatal development to late adulthood. Psychologists want to understand how children learn language, why adolescents alternate between rebellion and conformity, and what causes some people to be color blind, have photographic memories, or be natural leaders.
At Defiance College, psychology majors work with faculty who live out philosopher Paul Valéry's claim, "The purpose of psychology is to give us a completely different idea of the things we know best." Students learn how the brain and nervous system allow people to see colors, make memories, and have emotions, and they learn how social and cultural factors influence thought, feelings and behavior.
Psychology majors acquire an owner's manual for the human mind and learn how to use it to conduct research, analyze data, and test theories that will assist their future enjoyment and success in the field.
Put that marvelous contraption to work. See where psychology can lead.
---
Majoring in Psychology
The psychology program at Defiance College is intended to give students a broad understanding of human behavior. Small class size and frequent one-on-one faculty contact contribute to the academic quality of the psychology program and the students' future success and enjoyment in the field.


Courses in psychology are intended to:
Contribute toward better personal and social adjustment by enhancing students' understanding of themselves and others


Prepare students for graduate study leading to careers in the field of psychology


Provide a basis for pre-professional study (as in pre-law, pre-medical, and related careers)


Provide an understanding of psychological principles, theories, and techniques that will result in more effective functioning in various vocational fields, such as business, education, criminal justice, and social work


Contribute to the students' general cultural enrichment


---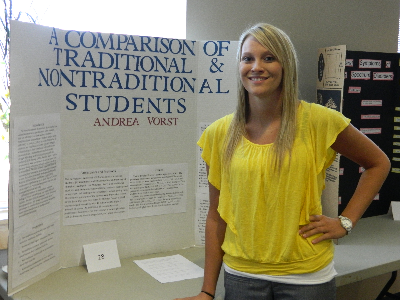 "My experience at Defiance College gave me an opportunity to make strong relationships with the professors, staff, and other students in my major. My psychology major has prepared me for Graduate School and can be applied in a variety of different fields of study. I loved the small class sizes and how I was more than just a number on a piece of paper." - Andrea Vorst
---
Unique Opportunities
Defiance College encourages students to participate in service learning. Advanced psychology students have the opportunity to volunteer or work at local mental health and human service agencies. An exciting component of the psychology program is the opportunity to conduct a research study and present the results at the annual Honors Symposium. Our students have conducted research on depression in college students, how the number of siblings in a family influences family dynamics, and the effect of sleep deprivation of academic performance.
---
After College — What's Next?
According to the American Psychological Association, persons with a bachelor's degree in psychology have found employment in management, mental health casework, child care, health services, human resources, gerontology, and probation and parole.
Recent Defiance College graduates in psychology are graduate students, caseworkers, operation coordinators, and substance abuse counselors. The psychology major enables each student to proceed in any one of a broad variety of career directions at the bachelor's degree level, while at the same time adequately preparing those who wish to attend law, medical, or graduate school in the helping professions.
---
The Faculty
Deborah Dalke, Ph.D., Professor of Psychology
419-783-2449 | ddalke@defiance.edu
Kristin L. Sorensen, Ph.D., Associate Professor of Psychology
419-783-2430 | ksorensen@defiance.edu