About Defiance College
ASD Affinity Program
Defiance College is a small residential campus of approximately 1,000 students. The common threads that run through today's Defiance College – academics based in the liberal arts, preparation for successful careers, a sensitivity to the world and its diverse cultures, and a commitment to service – all have more than a century of tradition.
History
Chartered in 1850 by the state legislature, trustees sold canal lands granted to them to start a college. By the mid-1880s, the doors of Defiance Hall were opened to the first students. The small college grew, and by the early 1900s, academics, social and extracurricular activities expanded. In 1902, the Christian Church assumed leadership of the college and changed its name to Defiance College.

Location
Defiance is a picturesque town of 17,000, where people enjoy wide-open spaces and Midwestern hospitality. The city is located in the Northwest corner of Ohio at the confluence of the Auglaize and Maumee Rivers; one hour from Lima and Toledo, Ohio, and Ft. Wayne, Indiana; two hours from Detroit, Michigan; two-and-a-half hours from Columbus and four hours from Chicago, Illinois. The Defiance Chamber of Commerce and Defiance Development and Visitors Bureau provide more information about the city of Defiance, Ohio.

Student Population
Defiance College has a student population of nearly 1,000 students. More than 60 percent of traditional students live on campus.

The Campus
The campus includes 19 buildings and is located in the city of Defiance, close to both residential neighborhoods and busy commercial districts. Within walking distance of the active 150 acre campus are stores, restaurants, movie theaters, and coffee and ice cream shops.

Faculty
The student-to-faculty ratio is 11:1. Average class size is 15 students.

Accreditation
Defiance College is accredited by the Higher Learning Commission of the North Central Association of Colleges and Schools, Ohio Board of Regents, the Council on Social Work Education, the Commission on Accreditation of Athletic Training Education, the International Assembly for Collegiate Business Education, and the Commission on Collegiate Nursing Education. The teacher education program has been reviewed and approved by the Ohio Department of Education using the teaching education standard of the National Council of Accreditation of Teacher Education. Defiance College has received specialized accreditation for its business programs through the International Assembly for Collegiate Business Education.

National Recognition
Defiance College is among the top 20 schools in the nation for community service and engagement as a Presidential Award Finalist for the 2013 President's Higher Education Community Service Honor Roll. DC is one of only four colleges and universities in the Midwest to receive the prestigious recognition.
Defiance College has been named as one of 81 colleges and universities around the country to the Colleges With a Conscience national guidebook published by Princeton Review and Campus Compact.
Colleges of Distinction's guide selected Defiance for exhibiting the four distinctions that make a college outstanding: engaged students, great teaching, a vibrant community, and successful outcomes.

Degrees Offered and Majors
Associate of Arts in:

Business Administration
Criminal Justice

Bachelor of Arts
Bachelor of Science
Bachelor of Science in Nursing
Master of Arts in Education
Master of Business Administration

Engagement
The College's vision calls for an educational experience of engagement - civic, cultural, and learning - for all students. Defiance College is home to the McMaster School for Advancing Humanity, a unique research program serving as a focal point for teaching, service, scholarship, and action to improve the human condition. The Service Leadership Program is an intensive campus/community initiative designed to develop citizenship and leadership skills. The Carolyn M. Small Honors Program provides exciting research opportunities and the opportunity for students to participate in an honors curriculum.

Co-Curricular Activities
Defiance offers students a variety of organizations, clubs, and activities including honor societies, religious groups, sororities and fraternities, intercultural organizations, student government, intercollegiate and intramural athletics, literary publications, music and performance groups, service learning activities, and special interest clubs.

Athletic Affiliations
The National Collegiate Athletic Association (NCAA) - Division III
Heartland Collegiate Athletic Conference (HCAC).
Ohio Athletic Conference (OAC) - Swimming and Diving
Midwest Lacrosse Conference (MLC)

Mascot: Yellow Jackets
Colors: Purple and Gold
Men's

Baseball
Basketball
Cross Country
Football
Golf
Indoor Track & Field
Lacrosse
Outdoor Track & Field
Soccer
Swimming and Diving
Tennis

Women's

Basketball
Cross Country
Golf
Indoor Track & Field
Lacrosse
Outdoor Track & Field
Soccer
Softball
Swimming and Diving
Tennis
Volleyball

Campus Map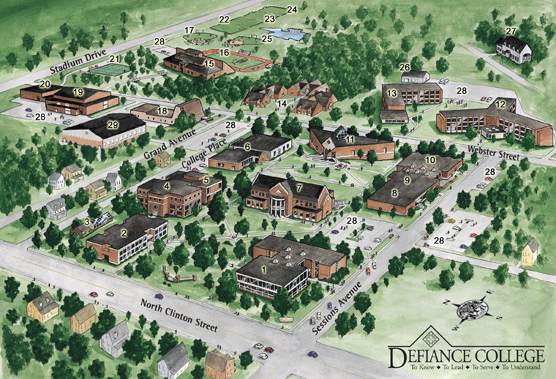 1. Defiance Hall
2. Schauffler Hall
3. Kettering Genetics Center
4. Tenzer Hall
5. Carma J. Rowe Science Hall
6. Hubbard Hall/McCann Center
7. Serrick Campus Center
8. Dana Hall
9. Schomburg Auditorium
10. Art Center / Women's Commission Art Gallery
11. Pilgrim Library
12. McReynolds Hall
13. Whitney Hall
14. Jacket Suites
15. Justin F. Coressel Stadium

16. Alumni Football Field
17. Craig A. Rutter Field
18. St. John's UCC
19. Karl H. Weaner Center
20. McMaster Center
21. E. Stevens Dix Tennis Facility
22. Football Practice Fields
23. Matthew Winsper Knobel Memorial Soccer Field
24. Soccer Practice Field
25. Sal Hench Softball Field
26. Maintenance Department
27. President's Home
28. Parking
29. George M. Smart Athletic Center