Student Academic Support Services (SASS)
Pilgrim Library
Services
First-Year Program — strives to support and empower Defiance College's students to be successful college learners and engaged campus leaders. One of the main goals of the First-Year Program is to prepare and orient incoming first-year students to the academic and social realities of the Defiance College campus. Towards accomplishing this goal, SASS unites Academic Affairs and Student Life for a holistic approach to assisting all first-year students in the transition to college. Through SASS, the First-Year Program coordinates the CORE 100 – College Engagement Seminar and trains and supervises the First-Year Peer Leaders.
Learning Commons/SASS Studio — provides academic services to assist the college's students. Learning is an ongoing process, and the focus of the SASS Studio is to helps students develop skills and strategies for overall college success. The following Academic Support Services are provided through the SASS Studio:
Tutoring
Writing Consultation
Supplemental Instruction
Structured Study Program

Conditional Advising Program — is a required program for incoming students who do not meet the minimum admissions requirements but show potential for success. Conditional admittance requires that students successfully complete the advising program through SASS the first semester on campus. Conditional students sign a contract that outlines all program requirements and obligations. Through this program, the SASS office provides weekly advising for conditional students to improve academic skills and gain access to support services as they acclimate to college life.

Success@DC – is an early-alert system that collects information reported by faculty and staff regarding students' attendance, academic performance, campus behaviors, and other concerns. The SASS staff and Student Life oversee this system to assist students of concern by providing the necessary advising and navigating student concerns to the appropriate support services on campus.

Advising Undeclared Students — is a service to support those students who may be struggling to identify a major for their college studies. We provide assistance with scheduling as well as advising and exploration tools and strategies in close coordination with the Career Development Office to help a student discover the major that is right for them.


Mission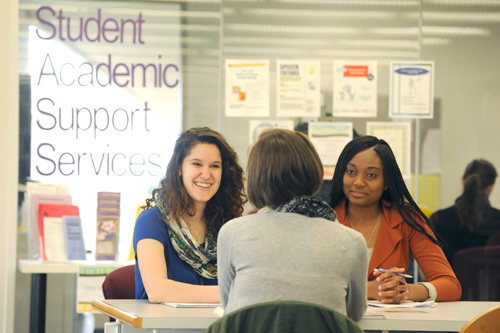 The primary objective of Student Academic Support Services (SASS) is to provide undergraduate students at Defiance College with resources and opportunities to improve their ability to learn and to achieve academic success. The SASS components of First-Year Program, Learning Commons/SASS Studio Services, Conditional Advising Program, Success@DC, and Academic Advising Assistance engage students in developing effective strategies and skills for a successful transition to college and for academic success throughout their college career and beyond. By focusing on the needs of first-year students and offering academic support for all learners, SASS strives to increase the retention and graduation rate of students enrolled at Defiance College.
---

Staff
Lisa Crumit-Hancock, Director of Student Academic Support Services
419-783-2332 | lcrumithancock@defiance.edu
Brandon Ripke, Academic Support Coordinator
419-785-2874 | bripke@defiance.edu
Workshops


Fall 2016
---
Thursday, October 6
Writing Introductions
and Conclusions
Library Periodical Section
---
Thursday, October 13
APA Workshop
Library Periodical Section
---
Tuesday, October 11
Discover Your Learning Style
---
Tuesday, October 18
Critical Thinking Tips
---
Thursday, October 20
Paraphrasing
Library Periodical Section
---
Tuesday, October 25
Using Your Extracurricular
Skills in Your Studies
---
Thursday, October 27
Using Your Sources Effectively
Library Periodical Section
---
Tuesday, November 1
Presentation Skills
---
Tuesday, November 8
Creating a "Can't Fail" Mindset
---
Tuesday, November 15
Winding Down, But Not Wearing
Out: Avoiding Procrastination