Come Visit Defiance College!
Defiance College offers individual, personalized visit days and special visitation days. If you are interested in visiting campus or attending any of the following events, please call us at 1-800-520-GODC or 419-783-2359, fill out the RSVP Link below, or e-mail us at mlynn@defiance.edu.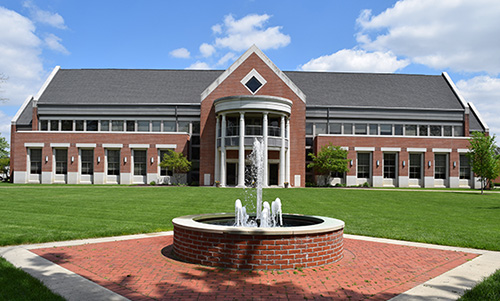 Mark Your Calendar!
April 6, 2019

- Junior Preview Day
---
Individual Campus Visit - You pick the day and time
If you would rather set up your own itinerary, no problem! Call the Admissions Office today, and we can arrange for you to meet with an admissions counselor, talk with a faculty member in your major, take a campus tour, eat lunch in the dining hall (offered for visits during spring and fall semester only), and talk with a coach, if you'd like. You can visit Monday through Friday from 9:00 a.m. until 3:00 p.m. and most Saturday mornings during the academic year from 9:00 a.m. until noon.
Where you attend college may be one of the most important decisions you will make as an adult. Visiting a college or university is an essential part of your decision. We know you'll find Defiance College community members to be personable, friendly, and willing to help you make that decision.
The best way to get to know Defiance College is to experience it for yourself. Visiting our campus enables you to make your own discoveries and to ask your own questions. A campus visit will help you feel confident, knowing that you made the right choice for your college education. A visit to Defiance College includes a personalized look at our academic programs. Feel what it is like to be part of a college that cares about students. Experience the advantages of small class sizes and a faculty dedicated to individual attention.
Your visit to Defiance College will be thorough. Depending on your preferences, you will have the opportunity to tour the campus, visit with a faculty member in your major, and meet with an admissions counselor. And of course, lunch is on us! If you want to visit a class, just ask when you call to make your appointment.
The Admissions Office welcomes visitors Monday through Friday from 9:00 a.m. to 3:00 p.m. and most Saturday mornings during the academic year from 9:00 a.m. to 12:00 noon. Please give us a call at 419-783-2359 or 1-800-520-GO-DC (4632) so we can make the necessary arrangements to ensure an enjoyable visit.
---
Location
Defiance College is in the Northwest corner of Ohio at the confluence of the Auglaize and Maumee Rivers; one hour from Lima and Toledo, Ohio, and Ft. Wayne, Indiana; two hours from Detroit, Michigan and Columbus, Ohio; three-and-a-half hours from Cleveland, Ohio; and four hours from Chicago, Illinois. The city of Defiance has 18,000 residents.
Directions to the Defiance College campus
Hotels near campus

Mindi Lynn
Admissions Office and Campus Visit Coordinator
Phone: (419) 783-2361 | 1-800-520-GO DC (4632)
Email: mlynn@defiance.edu