Defiance College President Richanne C. Mankey
Vice Presidents
Presidential Inauguration Photo Album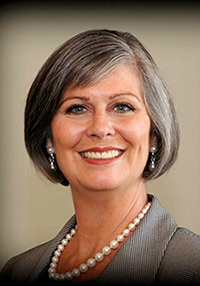 Dr. Richanne C. Mankey officially began her presidency at Defiance College on January 1, 2016. In the 165-year history of the College, she is the 19th president and the first woman president.
She graduated cum laude in psychology from Ohio Northern University; received her master's degree in social agency counseling from the University of Dayton; and earned her doctorate in adult education from Teachers College, Columbia University, New York. Her career as a leader in independent higher education spans nearly three decades.
Before taking the presidency at Defiance College, Dr. Mankey was vice president for institutional advancement at Daemen College in Amherst, N.Y. While there, she led the College to two of its highest giving years, initiated and implemented a charitable gift annuity program, increased annual fund giving, raised funds to complete campus beautification initiatives, and secured more than $2.2 million in grant funding since taking office in June 2013.
Prior to her most recent position at Daemen, she served as vice president for student affairs and dean of students at the College. Campus-wide, she chaired the College's facilities master plan committee and led the extensive application process for Daemen College to become a full member of NCAA Division II athletics. She began her career at Ohio Northern University where she held progressively more responsible positions and was the youngest named vice president.
Dr. Mankey received the 2017 Distinguished Alumna award from Ohio Northern University; the Women of Influence for Nonprofit Leadership award given to women who display high energy and skill in a leadership role; the Bernice Poss award given annually to a woman in higher education who exemplifies leadership, professionalism, concern for others, and steady advocacy of women; and the campus-wide Daemen College National Girls and Women in Sports Day Campus Award as a professional who supports student-athletes and athletics.
Regionally, in 2011, she was a founding member of the Women's Leadership Institute through the Western New York Consortium for Higher Education and chaired its steering committee. She has also been selected to participate in national and regional discussions about critical issues and/or women in higher education.
Since 2006, she has served as a member of the Board of Directors for the Buffalo-Niagara YMCA. The $1.6 million raised when she chaired the Strong Kids (now Annual) Campaign from 2007-13 directly benefited local children and their families.