Transfer Students
Quick Links:
We are committed to making the transfer process easy and seamless, as well as an affordable option for students. You will find that DC has a personable and supportive team of staff, faculty, and coaches to guide you through the transfer process. Once accepted, Defiance College takes great pride in graduating the leaders of tomorrow.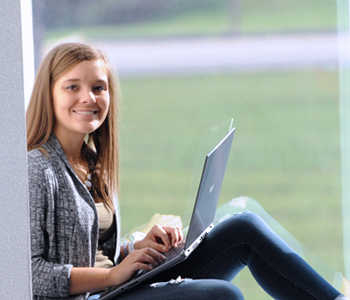 Start your journey by applying for admission.
Start the transfer process early!
Even if you are just beginning your post-secondary education and do not plan to transfer to DC until a future semester, it is never too early to begin. A little bit of advanced planning helps you to make the most of your time and money.
---
If you're transferring from an accredited university, we make the process as fast and efficient as possible - usually within two to three business days. Learn about our credit evaluation.
---
TRANSFER SCHOLARSHIP AWARD
Our commitment is to make DC affordable and recognize your academic achievement!
$15,000 Scholarship for students with a 3.5 GPA and above
$12,000 Scholarship for students with a 2.5 - 3.49 GPA
$10,000 Scholarship for students with a 2.49 - 2.00 GPA
$2,000 Associate's Degree Award for students who have completed their degree at a two-year college or university.
Scholarships are awarded to accepted, full-time transfer students based on academic performance at all previously-attended colleges/universities.
---
TRANSFER PROCESS CHECKLIST
Transfer students interested in enrolling full-time (12 or more credit hours per semester) should follow the checklist below:
Three easy ways: online, in person, or through Common App.
Online: Complete the application. Request official* copies of your high school and college transcripts to be forwarded to the Office of Admissions.
In Person: Bring your official* high school and college transcripts to the Office of Admissions and fill out an application with us.
*NOTE: Official transcripts are those sent to DC directly from the high school or college with an official seal or signature on the transcript.
After sending us your official high school and college transcripts, you will receive an evaluation in the Registrar's Office of the transfer credit awarded and how it applies to your selected major.
Once you are accepted, register to attend Student Express Registration to schedule your classes, get your student ID, set up your student email account, and more.
---
CONTACT US
Questions? The following contacts are happy to assist you:
Courtney Sallee
​Veteran, Transfer and Adult Recruitment Coordinator
419-783-​2365
csallee@defiance.edu​
Jack Lawson
Veteran, Transfer and Adult Student Support Coordinator
419-783-2313
jlawson@defiance.edu
Registrar's Office, for transcript evaluations
419-783-2375
registrar@defiance.edu