Service Leadership Program

Defiance College's Service Leadership program gives students the opportunity to use their classroom knowledge in a way that gives back to the community. Each Service Leader is required to complete a minimum of 500 hours of service before they graduate at any agency that aligns with his/her academic interests. This individualized program allows for Service Leaders to choose when and where they would like to complete their service hours.
Service Leaders interact in bi-weekly class meetings and have multiple opportunities to participate in personal development, professional development, and leadership workshops. Service Leaders learn the difference between volunteerism and service learning, moving their focus from random acts of kindness to making a larger impact on the world around them. As a result, students will gain a better understanding of the world and their place as active global citizens.
This award is designed for students to develop leadership and communication skills, explore the concept of conflict transformation, and improve their cultural awareness. Students will have the opportunity to apply their academic and personal expertise to a real-world issue through a service-learning project. Each year, up to 25 incoming students with an interest in service and/or leadership are awarded this scholarship to continue their commitment to civic engagement while at DC.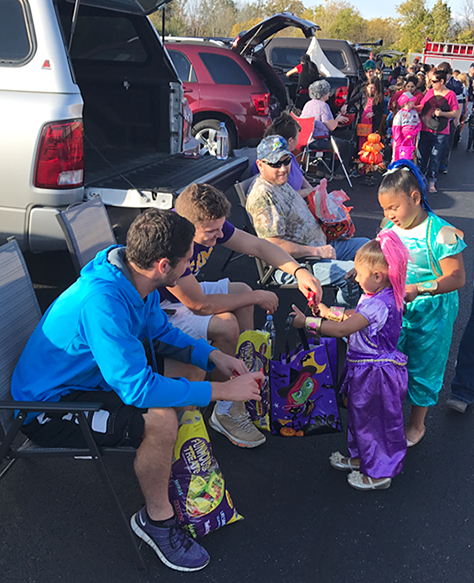 Application Criteria:
Admitted in good standing to DC
Service Leader short essays

Service Leadership Award Online Application
or PDF Application Form
---
Testimonials
"The Service Leadership Program was an instrumental part of my success at Defiance College. Not only did it help me, through its various opportunities, to hone skills such as effective time management, communication, and collaboration, but it also served as a constant reminder to give of myself to help others. Perhaps the most lasting effect of this program on my life is the life-long friendships I have made with my fellow service leaders. These friends have been my inspiration and encouragement, and helped me feel a part of a family and community when I was so far away from my own."
--Cormack Lazarus, 2016 Graduate
"As a service leader for four years and collecting over 2,000 service hours I was able to grow into and feel confident in my leadership potential while impacting the local Defiance community. After graduating from DC I moved to Virginia and began working at a non-profit. Immediately I've been able to take the skills the service leadership program equipped me with to begin making a difference in my new home community. Being a service leader gave me a safe and comfortable place to try new things, meet new people, and reaffirm my passion for community development. As I begin forging a new path for myself as a working adult, I hope to continue volunteering for local organizations and maybe even helping high school and college students enjoy leadership development the same way I have."
--Dava Donaldson, 2016 Graduate
---
Contact
Brad Harsha
Assistant Dean of the McMaster School for Advancing Humanity
419-783-2553
bharsha@defiance.edu