Commencement Ceremony
Undergraduate and Graduate Ceremony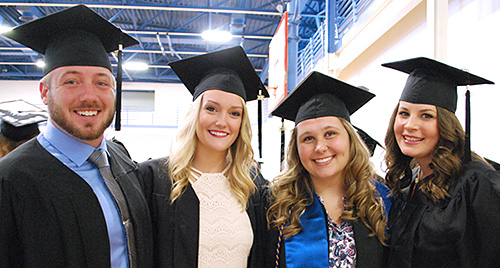 Saturday, May 6, 2017, 11 a.m.
Karl H. Weaner Community Center
It is important that graduates arrive at the McMaster Center by 10:30 a.m. to robe and assemble. Light refreshments will be served after the ceremony in a tent outside of the Weaner Center.
Practice
There will be a mandatory practice for all graduates on Thursday, May 4, beginning at 5 p.m. Immediately following the practice will be a "Senior Bash" sponsored by the Office of Career Development and the Office of Institutional Advancement. A meal will be provided and you will receive your gift from alumni.
Marching Order
The commencement marching order is prepared a few weeks to a week prior to commencement and indicates the student's position in the marching order. Students will be notified via email by the office of academic affairs of all the details. It is very important that we have accurate information as to whether students will be attending commencement. Please contact Mariah Orzolek at morzolek@defiance.edu or 419-783-2358 if you received your marching order and won't be able to attend or didn't receive your marching order and you plan on attending.
Procedure to Graduate
Students must declare their intention to graduate by completing an application for graduation, which can be obtained in the Registrar's office or online. Applicants must be approved by the Board of Trustees and the Faculty, so it is critical that applications are submitted in a timely fashion. Students desiring to graduate in December must apply by May 1. Students seeking graduation in May or summer must apply by December 1. A late application can result in the student being placed on a graduation list for the following year.
Seats
Tickets are NOT required for Commencement and seating is on a first come, first serve basis. However, if you have family members who require special accommodation, you will require a reserved seat ticket. Please contact the Administrative Assistant for Academic Affairs. She will be able to provide you with reserved seats.
*Please make your requests early because seating is limited.
Parking
All campus lots will be open with reserved parking at the Weaner Center for those with a handicap license plate or tag. This map will show you available parking lots.
Photography
Bruce L. Heflin Photography will be taking portraits as each graduate receives his or her diploma and cap and gown portraits at the bottom of the stage. Proofs of these pictures will be mailed to you within 7 days of the ceremony or you may view and order your pictures online at www.mypicturesnow.com. Pictures will be online within 48 hours after the ceremony.
Caps & Gowns
You may begin to pick up your regalia from the college bookstore April 10th. Regalia ordering information is supplied to students when they complete their application for graduation. Students wishing to order personalized announcements, class rings, and specialty diploma frames can do so through our partner, Herff Jones.
Regalia & Attire
Full academic regalia will be required to participate in the ceremony. Only approved cords, medallions, and stoles will be accepted to be worn with regalia. We suggest the following attire:
A. Tassel Placement
- Bachelor's candidates : Place tassel on right side of mortar board. Following reception of degree, place tassel on left side.
- Master's candidates: Place tassel on left side of mortar board.
B. Mortar Board
- Wear it squarely on top of the head, board parallel to the floor; not cocked to the sides, forward or back.
C. Hoods
- Master's candidates: You will be hooded during the actual ceremony. All hoods will be on stage awaiting the calling of your name.
D. Cords
- All cords were distributed during the Honors Convocation ceremony. If you didn't attend Honors Convocation, stop by the Office of Academic Affairs before Friday, May 5, to pick up your cord.
- They should be draped around the neck, with the tassels hanging as evenly as possible in the front.
E. Miscellaneous
- At the Commencement ceremony, please wear items that are celebratory and dignified (example: cap, gown, cords, medallions, stoles) so that Commencement is uninhibited for everyone attending.
Community Information
For extended information regarding the city of Defiance please visit www.defiancechamber.com.
Office of Academic Affairs
Defiance Hall
419-783-2586
Office hours: Monday – Friday, 8 am – 4:30 pm