Commencement 2016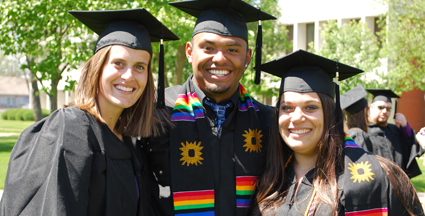 Baccalaureate Ceremony
Undergraduate and Graduate Ceremony
Saturday, May 7, 2016 Begins at 10:30 a.m. Karl H. Weaner Community Center
Commencement Ceremony
Undergraduate and Graduate Ceremony
Saturday, May 7, 2016 Begins at 12:00 noon Serrick Colonnade

The ceremonies are planned so that Commencement will immediately follow Baccalaureate and both should be completed by 2:00 p.m. Baccalaureate will be held at 10:30 a.m. in the Karl H. Weaner Community Center. It is important that graduates arrive at the McMaster Center by 10:00 a.m. to robe and assemble for the service.
After the service, at approximately 11:15 a.m., the audience will move to the Serrick Colonnade; the faculty and graduates will return to the McMaster Center to organize for the academic procession to the Serrick Colonnade. We will begin the procession at approximately 11:45 a.m. Commencement will begin at 12:00 Noon in the Serrick Colonnade. In case of rain, Commencement will be held in the Weaner Center where seating is limited and on a first-come basis. Following the Commencement ceremony, a reception will be held for graduates and their guests.
Sun protection is advised for the outside ceremony.
SEATS
Commencement Tickets are NOT required for the Baccalaureate or Commencement ceremonies. Each student is allotted 20 seats. However, if you have family members who are disabled and require special seating you will require a reserved seat ticket. Please contact the Administrative Assistant for Academic Affairs. She will be able to provide you with reserved seats.
*Please make your requests early because seating is limited.
In case of rain, Commencement will be held in the Weaner Center where seating is limited and on a first-come basis.
PARKING
All campus lots will be open with the exception of the Hubbard Parking Lot which is being reserved for those with a handicap license plate or tag. This map will show you available parking lots.
PHOTOGRAPHER
Bruce L. Heflin Photography will be set up in the Weaner Center prior to the Baccalaureate ceremony for still photo in cap and gown. They will also be set up at the bottom of the platform to capture a photograph of each graduate as the received their diploma. This letter provides you with all the information necessary to order packages or DVD's of the occasion.
BOX LUNCHES
Please note, the ceremonies are approximately 45 minutes apart; therefore, those who need to eat a noon-time meal will want to plan accordingly. For the convenience of families and guests $5 box lunches will be available in the Serrick Center.
CAPS & GOWNS
You may begin to pick up your regalia from the college bookstore April 10th. Students supplied regalia ordering information when they completed their application for graduation. The cap-gown-tassel units for associate and bachelor degrees will be $40 plus tax; graduate degree cap-gown-tassel units are $42 plus tax and graduate hoods are $34 plus tax. Individual caps and tassels are also available. Caps are $7 plus tax and tassels are $5.25 plus tax. Students wishing to order personalized announcements, class rings and specialty diploma frames can do so through our partner, Herff Jones.
REGALIA & ATTIRE
Full academic regalia will be required to participate in the ceremony. Only approved cords, medallions, and stoles will be accepted to be worn with regalia. We suggest the following attire:
A. Tassel Placement
Bachelor's candidates : Place tassel on right side of mortar board. Following reception of degree, place tassel on left side.
Master's candidates: Place tassel on left side of mortar board.
B. Mortar Board
Wear it squarely on top of the head, board parallel to the floor; not cocked to the sides, forward or back.
C. Hoods
Master's candidates: You will be hooded during the actual ceremony. All hoods will be on stage awaiting the calling of your name.
D. Cords
All cords were distributed during the Honors Convocation Ceremony held in April 2016.

If you didn't attend Honors Convocation, stop by the Office of Academic Affairs before

Friday, May 6,

to pick up your cord

.
They should be draped around the neck, with the tassels hanging as evenly as possible in the front.
E. Other Paraphernalia
At all Commencement ceremonies, no paraphernalia beyond cap, gown, cords, medallions, and approved stoles, are permitted.
DEFIANCE COMMUNITY INFORMATION
For extended information regarding the city of Defiance please visit www.defiancechamber.com.
MORE INFORMATION
Additional Graduation Information
Office of Academic Affairs
Defiance Hall
419-783-2586
Office hours: Monday – Friday, 8 am – 4:30 pm