Apply Online | Request More Information


The intersections of media, culture, and communication are crucial to understanding and navigating our interconnected world. Students in the department of communication studies explore the cultural dimensions and implications of communication practices from oral and written language, to film, television, and digital media. Our curriculum emphasizes the study of global media and culture, digital media and new technologies, media history, film, and political communication. The communication studies major at Defiance College produces graduates who meet superior standards of performance in oral and written communication, persuasion, information-processing techniques, and media analysis.
Communication studies students work closely with professors to gain both theoretical knowledge and practical skills. Students are challenged to argue effectively, to understand society's changing communication needs, and to use media in ways that are innovative yet accessible to large groups of people. In combining many different aspects of a liberal arts education, the communication studies major produces well-rounded citizens capable of succeeding in a variety of fields.
Students are encouraged to pursue internships related to their prospective careers. Previous students have completed experiential learning with local television stations, nonprofit organizations, and major corporations such as Disney.
Benefits of the Program
Communication studies at DC is a tight-knit learning community with small classes, friendly professors, and excellent resources. This supportive environment helps students discover and nurture their interests during the course of their time at Defiance College. Students are encouraged to collaborate with faculty on research projects, conference presentations, and media production. Additionally, the department has several events where students and faculty come together both formally and informally to discuss politics, art, film, music, or anything of interest.
---
Related Programs
Complementary minors might include English or history for students who wish to pursue graduate/law school and/or careers related to political or nonprofit work. Students who seek to pursue business careers might consider minoring in business, marketing, or economics.
---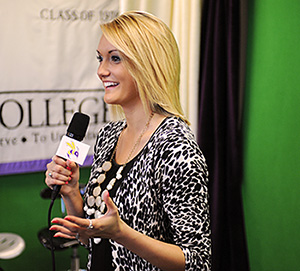 After College — What's Next?
The skills gained through a communication studies degree are in high demand in all sectors of the workforce. Leaders of various industries seek employees who can analyze data, communicate effectively, and adapt to a variety of situations. Communication studies can thus prepare students for any number of careers. Students interested in nonprofit organizations and/or the political field are well-served by a communication studies major. Additionally, the major prepares students for careers in the ever-expanding media industry, including film, television, and social media.
Recent graduates are employed in nonprofit agencies, television, advertising, and a variety of other fields broadly relating to communication or the communications industry. Many have continued on to pursue graduate study.
---
In Their Own Words
"When beginning at Defiance, I was an undecided major. I chose a communications studies major because of the wide variety of job opportunities it will provide. I enjoyed all aspects of communication and my professors gave me many new ways to look at the world around me."
--Keira Grandey, 2017 Graduate
"The DC communication studies program challenged me to think outside the box and look at the world through the perspective of communication. My professors prepared me to pursue higher education in graduate school. They worked hard to teach me and help me understand what it means to study rhetoric, culture, and the media."
--Kailin Regutti, 2016 Graduate
"When people think of communication studies, they think of traditional movies, radio, and journalism, but the communication studies program at Defiance College offers many more skills for the 21st century. DC's program offers students practical skills by understanding how companies communicate within organizations, advertise messages, and use social media to reach a broader audience. These skills were very useful in my internships with a local nonprofit and local government official."
--Ian Fasnacht, 2015 Graduate
---
Faculty
Christopher Cwynar, Ph.D.
Assistant Professor of Communication Studies
Phone: 419-783-2568
Email: ccwynar@defiance.edu
Caroline Leader
Assistant Professor of Communication Studies
Phone: 419-783-2459
Email: cleader@defiance.edu