Apply Online | Request More Information
Do you look at the world around you and wonder why it looks and works the way it does? Are you a creative person? Do you enjoy making things? If so, Defiance College's Design program is where you belong.
The Design program at Defiance College focuses on giving students a progressive, holistic understanding of design with an emphasis on innovative problem-solving. First, all students learn about the intersection of materials, colors, function and concepts before choosing a track in either two-dimensional (2D) or three-dimensional (3D) design. The 2D emphasis in Graphic Design, which encompasses a broad range of creative products for print and electronic media, includes corporate brand identity, web design, packaging design, and advertising. The 3D emphasis in Product Design focuses on the creation and production of tangible objects that people use, such as watches, tea kettles, or home goods.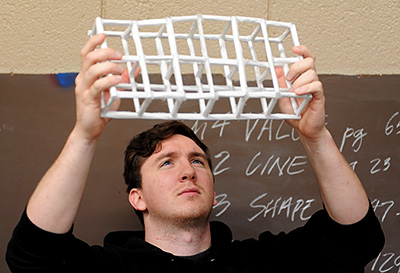 If you are a curious hands-on thinker or doer, studying Design at Defiance College will give you the skills and confidence you need to creatively, critically, and actively design the products and visuals of tomorrow.
Student work featured on this page by Casey Doudna, Lornette Lynch, and Michelle Puehler.
2-Dimensional: Graphic Design
This track prepares students for a professional, multifaceted career in Graphic Design. As designers of a global society, students will pair research, strategic problem solving, and critical thinking skills with creativity and craftmanship to deliver comprehensive visual solutions. Courses build upon a foundation of technical, aesthetic, and theoretical knowledge while also developing personal voice and vision.
3-Dimensional: Product Design
Students will learn how to design from initial idea to final product: finding problems to solve, conceptualizing their ideas, sketching and prototyping, experimenting with materials, testing mock-ups, and creating a finished product by hand or using rapid-prototyping techniques. Students will take classes that range from Design Drawing (how drawing from observation leads to product rendering) to Professional Practices in Design (how to tailor your creative work into a polished portfolio and apply for Design jobs).
---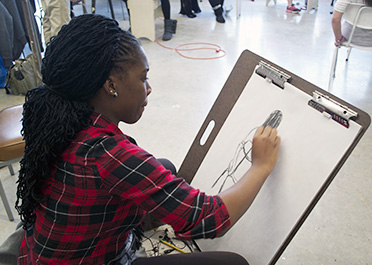 Benefits of the Program
Project 701: Creating Defiance is a small studio where Graphic Design students offer services to small businesses and non-profit organizations. Graphic Design students involved with this project have the opportunity to create logos, marketing materials, and much more for local and national organizations and companies.
Internships
All design students will have at least one internship during their time at Defiance College. These internships give students real world opportunities that include creating graphics and advertisements for print and web publications, as well as working with product designers. Students have had internships through Harley Davidson, Sauder Woodworking, The Tuttle Museum, The Crescent-News, Cleveland Indians, City of Van Wert, and Defiance College.
---
After College — What's Next?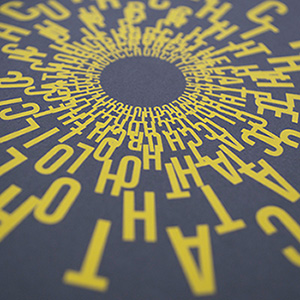 Graduates go on to many different positions in 2D and 3D design. Current 2D graduates are working for major corporations such as Sherwin Williams, running their own design firms, designing signs for a national franchise, and creating graphics and advertisements for print and web publications. Graduates of the 3D track may work as freelance product designers, in-house designers, or industrial designers within larger design firms. Students interested in continued research or studio practice may go on to earn a Master of Fine Arts (MFA) in art or design or a Master of Design (MDes).
---
In Their Own Words
"As a Graphic Design student, I go to class excited because every day is something different. While working on major projects, the professors are right there to help in any way possible. Once the projects are complete, the work is displayed so that other students around campus can see all of the diversity that the design students have within their projects and their major. Being a design student is more than just working on computers - it's being creative in many mediums!"
--Kandee Manson (2D), Senior
"As a high school student, I took advantage of the post-secondary enrollment option courtesy of both my home school and Defiance College. To get a taste of my anticipated major, I enrolled in a photography course. I hadn't planned to be a Yellow Jacket, but it only took the first week of class for me to realize I was in love with the Design program. After my second semester as a PSEO student, I made the decision to attend DC for the rest of my college career. I have become fonder of the Design program and faculty and I have acquired an arsenal of resources and connections that I am certain will lead me to bright places in the near future. DC's Design program is challenging, hands-on, and wastes no time on 'boring,' 'useless,' or 'trivial' material. Not only has the faculty been incredibly helpful through countless sketches and prototypes, successes and failures, they have been of great assistance in my own personal tribulations. They genuinely care about the success of their students. Small class sizes make one-on-one relationships possible, and friends are easily made within your cohort. Making the decision to be a Design major at Defiance College has been (and continues to be) one of the most worthwhile investments I have ever made - financially and personally."
--Isaiah Ross, Junior
"At first, art was nothing more than a hobby for me. It was a go to for me to release my emotions or to cope with boredom. Switching my major to 2D design was one of the best decisions I've ever made. I've learned new techniques, forms of art, and, most of all, it allowed me to open my mind and imagination. DC allowed me to fall in love with design and turned my hobby into a career opportunity. I look forward to enhancing my skills and creativity in continuing my journey in 2D art design."
--Javone Hilliard, Senior
"From beginning to end, Defiance College's Design program was hands-on, with exciting projects. The best part was that, with every project, I walked away with a deeper understanding of the design process, as well as design principles. I was able to apply these processes and principles as a graphic designer after graduation."
--Carrie Onder, 2015 Graduate
---
Faculty
Beverly Fanning-Simmons, MFA
Assistant Professor of Design
Phone: 419-783-2559
Email: bfanningsimmons@defiance.edu