English
Apply Online | Request More Information | Major Brochure

Fall down Alice's rabbit hole into a wonderland where the adventures are grand, the people distinctive, and the language wondrous strange. Become an English major at Defiance College.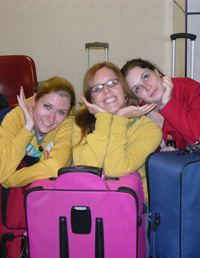 One of the most important skills a student can derive from college is the ability to think and read critically. Facts or specific skills are fairly easily mastered. The ability, however, to organize a diverse collection of facts and ideas in thoughtful, creative, and beneficial ways is a rare skill. Add to that the ability to clearly communicate meaningful and creative ideas to a diverse audience, and you have an English graduate who is ready to take on the challenges of a complex and changing world.
At Defiance, students in English get excited about different forms of creative writing and enjoy discussing the world of literature, film, and other aesthetic experiences. Professors work closely with students to develop their thinking, writing, and creative abilities in a context that is sensitive to current trends in the discipline as well as to the larger, media-driven world.
But this is just the beginning of the rabbit hole. Now fall all the way down.

Visit the English Department Website
---
Majoring in English
The 39-hour Bachelor of Arts English major offers preparation for a number of professions through its dual emphasis: (1) a 27-hour core of literature, writing, and criticism courses, and (2) a 12-hour program of major electives selected by the student.
Core courses enable students to deepen their knowledge of a variety of literature and their practice of critical thinking, writing, and interpretation skills. These are foundational to a number of professions. Major elective courses allow the student to develop skills and knowledge important to professions that benefit from studies in literature and writing.
The English B.A. is deliberately designed to complement a second major in such areas as graphic design, communication arts, business administration, history, art, and religious studies.
Minor in English
The minor in English is a balance of literature and writing courses and totals 18 hours. It is designed to address the interests of students who enjoy literature and the ideas that are part of literary study. The minor in English can be used to deepen the critical thinking skills of students in pre-law and can benefit those whose professional goals include well-styled language.
---
Publication Opportunities
Progeny
Progeny is a Defiance College literary and photography magazine that invites submissions from students, staff, faculty, and their family members to be published in a bi-annual literary and photography magazine. Poetry, short stories, and photos are common submissions for the magazine.
- View issues of Progeny -
The Defender
The Defender is the Defiance College newspaper.
The PaperWad
The PaperWad is an online webzine for students of AH 110 and 120.
---
After College - What's Next?
An English degree (or a double major in English) is the perfect foundation for any number of professional schools and professions: law school, public relations, journalism, business, diplomacy, information/library science, publishing, graduate studies in teaching, advertising, and sales.
---
The Faculty
Mary Catherine Harper, Ph.D., Professor of English
419-783-2461 | mcharper@defiance.edu | http://mcharper.faculty.defiance.edu/
Todd Comer, Ph.D., Professor of English
419-783-2348 | tcomer@defiance.edu | http://www.toddcomer.com/