Apply Online | Request More Information

Students in middle school face many challenges. They are attempting to gain independence and establish their individual identities. The guidance of capable, caring educators will help them as they navigate these critical years in their lives and realize their own potential. Middle Childhood Education majors at Defiance College understand the complex development of pre-adolescence. They are equipped with deep knowledge of the two specific content areas in which they teach, and they learn to use effective strategies that engage students in ways that emphasize their abilities, but are sensitive to their personal growth and development.
Available licensures:
Reading/Lang Arts & Science Licenses
Reading/Lang Arts & Math Licenses
Reading/Lang Arts & Social Studies Licenses
Social Studies & Math Licenses
Social Studies & Science Licenses
Science & Math Licenses


Benefits of the Program

Teacher candidates at Defiance College engage in classroom experiences in their areas of concentration for more than 100 hours during their first three years, and practice all they learn in an all day, every day 15-week internship during their final semester in the program.
In addition to small class sizes, a host of other advantages make Defiance College the right choice for students who want to serve through education. Teacher candidates at DC can explore service opportunities such as the McMaster School for Advancing Humanity, the Service Leadership Program, and Project 701.
Defiance College has a rich teacher education heritage. For more than 100 years, the College has prepared and graduated teachers who lead within their profession, often becoming principals and superintendents. The success of Defiance College education graduates rests in part on the rapport established with area schools and the caring, personal attention given to each student by the experienced faculty. DC Alumni often return for graduate studies to further their pedagogical understanding so they may better serve the students they teach.
---
Related Programs
Teacher candidates in middle childhood education are encouraged to obtain their middle childhood generalist endorsement which enables them to teach additional content areas in grades 4 through 6.
The Hench Autism Studies Program at Defiance College offers an undergraduate minor in autism studies, providing teacher candidates with the knowledge and skills to address the needs of individuals with autism.
---
After College — What's Next?
Many Defiance College program completers currently teach in schools in various local school districts, and in districts across the state of Ohio. Graduate opportunities are also available for DC alumni and education professionals who wish to expand their opportunities within the profession.
Students create networking opportunities for themselves each semester within classrooms and schools where they are placed. Those placements often lead to permanent employment upon program completion.
---
Accreditation
The Teacher Education Program at Defiance College is accredited by the National Council for the Accreditation of Teacher Education (NCATE) through the 2015-2016 academic year. All teacher licensure programs have been nationally recognized by either the appropriate professional organization or by the Ohio Department of Higher Education. Beginning in 2016, the program will adhere to the standards of the new accrediting body, the Council for the Accreditation of Educator Preparation (CAEP).
---
In Their Own Words
"What worked well for me as a middle childhood education major was the fact that Defiance College allowed me to be in the classroom my freshman year of college. I was able to determine if middle childhood education was the right major for me, which it was! The professors are all very willing to work with your busy schedule and are willing to help any student."
--Kaitlyn Rethmel, 2016 Graduate and teacher at Tinora Junior High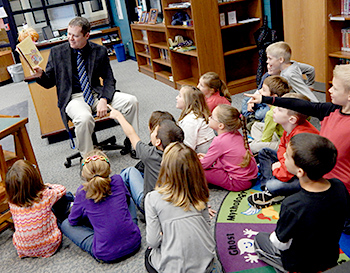 "The part of Defiance College that best prepared me for my career was my interaction with my fellow middle childhood education classmates. We spent most of the last two years in many of the same courses and were able to build a bond that helped us all get through these years. We were able to ask each other for advice, help each other with projects, and push each other to set higher aspirations for ourselves."
--Tim Manz, 2005 Graduate
---
Faculty
Carla Higgins, Ph.D.
Assistant Professor of Education
Director of Education
Phone: 419-783-2571
Email: chiggins@defiance.edu
Clarissa Barnes, Ph.D., BCBA-D
Associate Professor of Special Education
Director of the Hench Autism Studies Program
Phone: 419-783-2355
Email: cbarnes@defiance.edu
Jo Ann Burkhardt, Ph.D.
Professor of Education
Phone: 419-783-2315
Email: jburkhardt@defiance.edu
Fred Coulter, Ph.D.
Associate Professor of Education
Phone: 419-783-2416
Email: fcoulter@defiance.edu

Amanda Gilbert, Ph.D.
Assistant Professor of Education
Phone: 419-783-2473
Email: agilbert@defiance.edu

Rachel Eicher, Ed.D.
Assistant Professor of Practice of Early Childhood Education
Phone: 419-783-2373
Email: reicher@defiance.edu

Support Staff
Teresa Watkins
Administrative Assistant for Education
Phone: 419-783-2323
Email: twatkins@defiance.edu