Music Programs
YELLOW JACKET BAND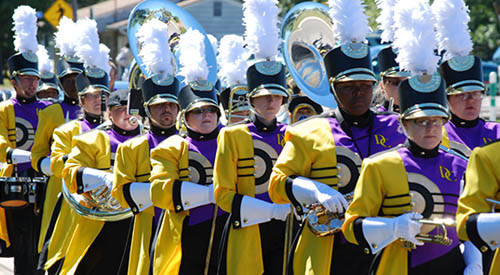 Want to continue your musical interest and have fun at the same time? Are you creative, filled with school spirit, and do you enjoy quality musicality?
---
YELLOW JACKET STYLE
The Defiance College Yellow Jacket Band is a marching ensemble driven by spirit and ideas of the students in the band. From unique, brand new uniforms to brand new instruments, this band is going to redefine marching band combining the best qualities of corps, college, scatter, and dance band styles to create the unique "Yellow Jacket Style." Each show will contain music selected in part by the students to capture the audience with full sounds and fun choreography for a unique, entertaining experience.
UNIFORMS
The Yellow Jacket Band uniforms were custom designed for DC by Michael Cesario from Fred J. Miller Inc. They represent the band's style with their unique design and ability to make a statement.