Apply Online | Request More Information
The global studies program offers students an interdisciplinary program that examines the world from multiple perspectives and enables them to compete successfully in the international arena. As a branch of political studies, its interdisciplinary curriculum links history, sociology, geography, non-Western literature, communication studies, business, economics, and natural science. Students may choose different geographical or thematic concentrations.
Global studies professors know there is no better way to grasp complex subjects than by taking what is learned in the classroom and applying it elsewhere. Majors do not just theorize about improving the world - they make it happen.
Through the McMaster School for Advancing Humanity, students have opportunities to become active world citizens as they research and plan projects that address a specific global issue, then collaborate with faculty to carry out the project. These projects take them to foreign countries such as Cambodia, Tanzania, and Belize to experience other parts of the world firsthand. The McMaster School allows students to gain fieldwork experience in another culture without paying out-of-pocket for travelling abroad and is an excellent resume builder.
International experts are invited to speak in global studies classes over Skype from places like Thailand, Egypt, Tunisia, and New Jersey. These shared experiences teach and engage students in discussions on topics such as the Arab Spring, terrorism, social networking, international organizations, human trafficking, and refugees and resettlement.
Now more than ever, our world is interdependent, interrelated, and intercultural. College studies should be too. Whether students focus on politics, commerce and trade, human advocacy, or environmental issues, the Defiance College global studies program teaches them the knowledge and skills necessary to understand, appreciate, and work for positive change in global society.
Internships are arranged by global studies faculty based on individual student interests. Students are encouraged to speak with the director of global studies about opportunities in their area of interest. Some recent internships were through partnership with: American Red Cross, Habitat for Humanity, the Burmese Advocacy Center, and Legal Aid of Western Ohio.
Benefits of the Program
In addition to independent study projects, international speaker series, internships, and extracurricular activities, global studies majors have a unique opportunity to work with Defiance College's innovative McMaster School for Advancing Humanity to perform projects serving humanity internationally.
Students benefit from exposure to international experts as classes use technology to link students with networks and expertise around the globe in real time. There are also opportunities for valuable experience within our own nation, an example being a trip to Washington D.C. Professor Haskollar summarizes it as "an amazing opportunity for our students to meet and interact with policy makers, government officials, legislators and international organizations. This experience translates into inter-personal skills that will be extremely valuable in the workplace."
Several dozen students, with many different majors, are eligible for the trip through a competitive process. The trip itinerary includes tours of the Pentagon, Library of Congress, House of Representatives, Center for Strategic and International Studies (CSIS), and the U.S. Capitol, where the students have the chance to meet with Ohio Senator Sherrod Brown. There are also opportunities to tour the Holocaust Museum, Ford's Theater, and the Kennedy Center.
Partnership with the Center for Strategic and International Studies (CSIS)
DC enjoys an innovative partnership with the world-renowned Washington, D.C.-based Center for Strategic and International Studies (CSIS). Through this partnership, DC students studying global studies will get all the benefits of being at a small college while tapping into the worldwide network of knowledge, experts, and potential internship opportunities at CSIS.
McMaster Certificate
In addition to the completion of their individual learning community requirements, students who are McMaster scholars may choose to pursue a McMaster certificate, which is intended to recognize their work and to help them gain a deeper understanding of the political, social, and economic issues associated with their location of study.
---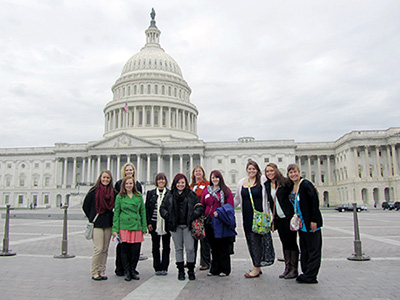 Related Programs
Global studies can be a companion major or minor for many other programs of study, including: history, business, accounting, education, criminal justice, social work, and communication studies.
By pairing global studies with another major or minor, career options may be expanded or defined to such areas as:
international law/diplomacy, governmental organizations, nongovernmental organizations, intergovernmental organizations, multinational corporations, international organizations, media/publishing, banking/finance, teaching/education, travel/tourism, nonprofit organizations, and civil service.
---
After College — What's Next?
The global studies major will provide students with a solid background and preparation for careers such as international service and business, government, international development agencies, non-governmental organizations, foreign service, philanthropic agencies, the Peace Corps, and for pursuing additional graduate work in law, the humanities, and social sciences. It also prepares those anticipating careers with an international focus in law, journalism, or public health.
---
In Their Own Words
"A global studies major analyzes the current state of the world and studies the various factors that have contributed in negative and positive ways to the international community. In class, we have discussed various topics including: causes of war, security dilemmas among various nations, and the use of force in the international community. We looked at them from perspectives of realism and liberalism, all of which have helped to give a better understanding of the current state of the world. Studying global studies challenges me to think about the world from the perspective of different people, political parties, government officials, and nations, and essentially has allowed me to view the world with a more global perspective than I ever had before."
--Xavier Blyden, Junior
---
Faculty
Don Buerk, Ph.D.
Associate Professor of History
Phone: 419-783-2454
Email: dbuerk@defiance.edu
Jeremy Taylor, Ph.D.
Associate Professor of History
Phone: 419-783-2305
Email: jtaylor@defiance.edu
Due to the interdisciplinary nature of Global Studies, full-time instructors from across the curriculum teach as a part of the program. Additionally, part-time instructors may teach specialized courses.